Better systems, better service, and better healthcare are at your reach.

Fujifilm's Echelon 1.5T is a premiere value in MRI. A reliable imaging tool, Echelon delivers excellent image quality and RF fat saturation with workflow advantages in patient setup, motion compensation, and image processing. With the short-bore gantry and small footprint, Echelon offers a simple solution for customer's upgrading or replacing equipment.
A staple of performance in many imaging centers, Echelon has established a long track record of operational reliability along with patient comfort and safety.
1.5T superconducting magnet with high performing 33/150 gradients
8 or 16 channel RF receiver with a wide range of coils
50cm FOV in all axes
High quality, whole body imaging applications that matter most to your practice
These units are to be sold installed as turn-key projects.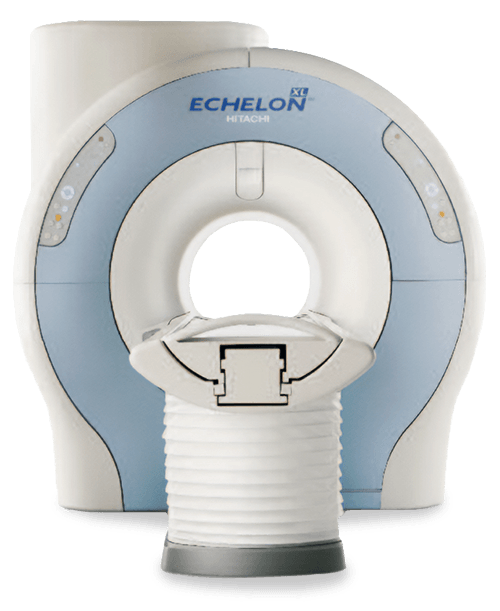 Performance and value…standard
The Echelon XL computer system integrates a dual core CPU and an advanced scan/reconstruction engine. This parallel processing design assures maximum workflow and patient throughput.
Core2Duo microprocessor
3GB RAM
Display

24in LCD color monitor
Display matrix: 1920×1200

Magnetic disk

250GB
Stores up to 400,000 images (256×256)

DVD-RAM archive

Media capacity 9.4GB
Stores up to 60,000 images (256×256)

CD writer (includes auto-launching PC viewer software)
Scan/Reconstruction Engine
Multiple processors

Data acquisition
Pulse sequence control
Digital receiver
Image reconstruction
Post-image reconstruction

1GB per channel RAM
Simultaneous scan and reconstruction
The powerful computer architecture of Echelon enables uninterrupted completion of complex post processing tasks while users multi-task (scanning, archiving and filming). Post processing and image transfer tasks status are reviewable in the Job Queue dialog.