Better systems, better service, and better healthcare are at your reach.

Supria Plus provides high levels of image quality across a wide range of applications. Access the latest dose awareness, reduction and management features. And take advantage of a compact footprint, increased patient access and lower cost of ownership of Supria models.
Supria models are designed with the patient in mind. Their large aperture, long table with high weight capacity comfortably accommodates patients of all sizes up to 500 lbs.
The latest Fujifilm dose reduction technologies* surpass the XR-29 Smart Dose Standard. A larger 75cm gantry aperture, wider 47.5cm table with a long 180cm scannable range result in a more positive patient experience.
*In clinical use, dose saving features may reduce CT patient dose depending on the clinical task, patient size, anatomical location and clinical practices employed. Consultation with a radiologist and physicist are recommended to determine the appropriate dose needed to obtain diagnostic image quality for a particular clinical task.
These units are to be sold installed as turn-key projects.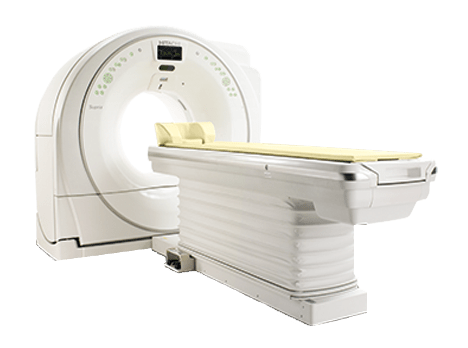 REMARKABLY COMPACT DESIGN
Meeting your needs and healthcare environment challenges, the engineering team at Fujifilm designed Supria to be open, yet compact — fitting in nearly all existing CT rooms. By minimizing siting costs, incorporating improved workflow processes and maximizing patient comfort, your investment in Supria translates into a faster return on investment.
Supria has just 3 compact modules:
Image Processor Cabinet
Gantry
Table
HIGH END IMAGING AND PERFORMANCE
Patient-centric design coupled with the engineering excellence of Supria puts you in control without compromising imaging performance. This makes the overall experience better for your patients in addition to more efficient and dependable for you.
Wide 75cm Aperture makes for a more comfortable environment for the patient
High weight-capacity table accommodates larger patients up to 500 lbs
Long Scannable range of 180cm for long coverage exams of tall patients with a single injection
Intuitive user interface
Available powerful and renowned TeraRecon 3D visualization server solutions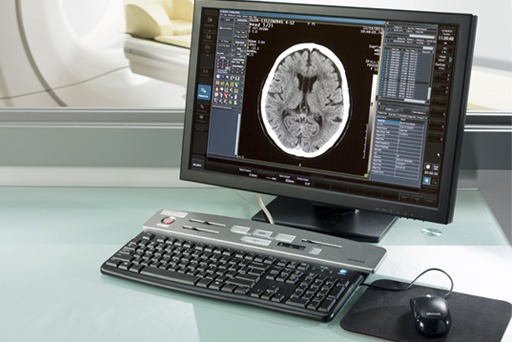 SMART DOSE (XR-29) COMPLIANT
All new Fujifilm CT systems are designed to meet ALARA practices as well as complying with the new XR-29 Smart Dose Standard. Supria comes standard with the latest dose reduction, monitoring and reporting capabilities required by XR-29:
Automatic Exposure Control – Intelli EC (3-D)
Pediatric and Adult Reference Protocols
DICOM Dose Structured Report
CT Dose Check (XR-25)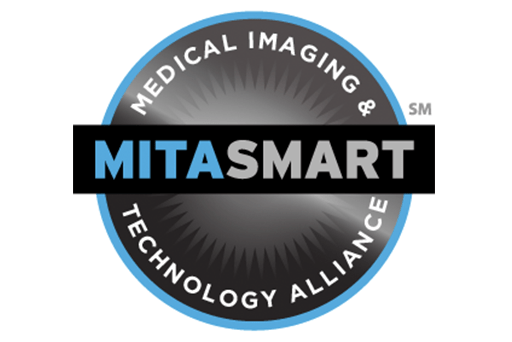 SIMPLE DOSE REPORT
Provides a dose report embedded in the image series, available whenever and wherever the images are viewed.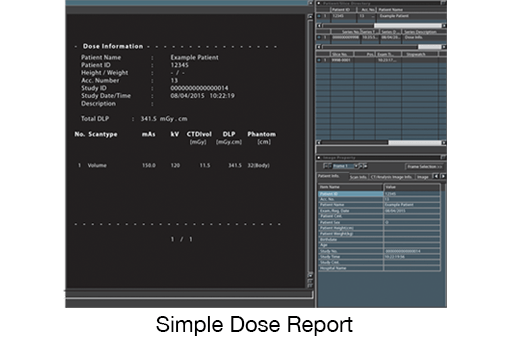 REDUCED kV IMAGING
Allows selection of the lowest appropriate kV for the individual patients' size — supports scanning at 80, 100, 120 or 140kVp.
INTELLI IP QUICK – ITERATIVE RECONSTRUCTION
Fujifilm's latest workflow enhancing, proprietary engine that makes use of adaptive iterative reconstruction in both projection and image space. Its use reduces pixel noise at a given level of mAs as compared to filtered back projection without Intelli IP Quick.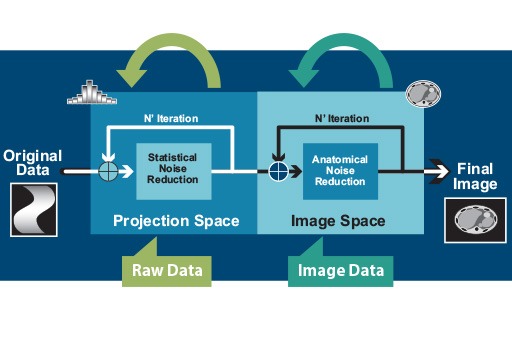 LOCKED PROTOCOLS (ACCESS CONTROLS, XR-26)
Protects protocols from unintended changes (unless an authorized password is used) to ensure more consistent imaging results and avoid unintended dose changes.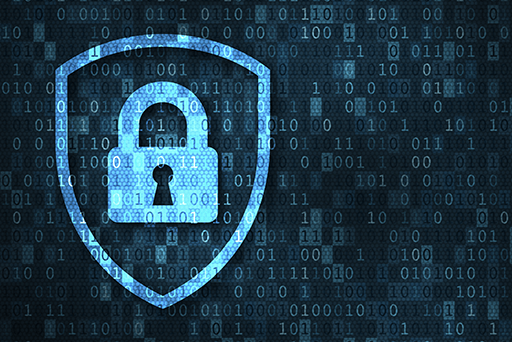 SCAN PARAMETERS
Slices: 16, with 32-slice FineRecon option
Rotation times (seconds): 0.75, 1.0, 1.5, 2.0
Data collection speed: 1,200 views per second
Minimum Slice thickness (mm): 0.625
FOV (mm): 20-500
Max scan range (in/mm): 71/1800
Max scan rotations: 100
Volume scan pitch: 0.578 to 1.578
GANTRY
Gantry aperture (cm): 75
Gantry tilt: ±30 degrees
Gantry Display: Digital Panel
Scan localizer
X-RAY TUBE
Anode heat capacity: 5.0MHU
Anode max. cooling rate: 748kHU/min
Tube cooling: Oil/Air
Focal Spot (mm): 0.7 x 0.8; 1.2 x 1.4
PATIENT TABLE
Table-top width: 19in (475mm)
Table weight capacity: 500 lbs. (227kgs)
Horizontal accuracy: ±0.25mm
Vertical travel range: 18in (450mm) to 39in (1000mm)
Scannable range 180cm
IMAGE RECONSTRUCTION
Matrix: 512 x 512
Immediate Preview Recon
Reconstruction time: up to 10 images/second (depending on recon parameter)
Iterative Reconstruction: Intelli IP Quick
CT number range: -32,768 to +32,767
SITING
Minimum suite size: 250 Sq. Ft.
Typical suite size: 340 Sq. Ft.
SCAN ACQUISITION TYPES
Scanogram with real-time display – AP & Lateral
Normal scan – axial mode
Volume scan – helical mode With or without Orbital Synchronization
Dynamic Scan mode for Time Density Analysis
X-RAY DETECTOR
Type: Solid state ceramic
Coverage: 20mm with 32 rows and 16-channel DAS
Detector elements: 32 x 880 = 28,160
X-RAY GENERATOR
Output: 48kW
kVp selection: 80, 100, 120, 140kV
mA selection: 10-400mA (5mA steps)
OPERATOR'S CONSOLE
Display: single 24-inch LCD widescreen monitor
Display resolution: 1920 x 1200
DOSE REPORTING
Simple Dose Report
DICOM Dose Structured Report (SR)
CT Dose Check (NEMA XR-25)
MITA Smart Dose Compliant (XR-29)