Better systems, better service, and better healthcare are at your reach.

FDR Go PLUS is one of the smallest, quietest, and most agile full-size portables available. Its quiet, smooth operation, retractable column, and compact design make it ideal for navigating busy environments and tight spaces. Together with Fujifilm's trademark image quality and dose performance, FDR Go PLUS offers exactly what you need for your most challenging bedside exams.
FDR Go PLUS Overview
Sophisticated yet simple operation and Fujifilm's trademark image quality and dose performance help optimize workflow and minimize patient disturbance.
The FDR Go® PLUS offers exactly what you need every day for your most challenging mobile exams:
All new retractable column, ultra-low park position, and signature compact tube head for maximum visibility and agile maneuverability while traveling.
System status indicators with bright LED status lights on the monitor and tube arm to provide exposure, charge, and system status at a glance.
Extra-large touchscreen display with Dynamic Visualization™ image processing, which automatically optimizes images for greater diagnostic visibility.
Virtual Grid™ (option) image processing simulates grid use, eliminating the need for a grid. It provides excellent image quality, up to 50% lower dose than grid exams, lighter easier positioning, and optimal patient comfort.
Extensive dedicated storage areas for large and small items, including a covered storage compartment for smaller items and larger open slots for easy accessibility and cleaning.
Inching controls at the tube head slowly move the system forward or backward for precise positioning at the bedside without needing to return to the drive handle.
3 sets of easy-to-reach tube positioning releases and front and rear collimation controls for fast, easy collimation and positioning exactly where you need it.
Fun pediatric graphics (option) to help calm patients and parents in the NICU, PICU, and pediatric departments.
Compatible with FDR D-EVO II detectors available in GOS and CsI, in standard 14×17" or full field-of-view 17×17" sizes, and a 24x30cm perfect for neonatal and extremity use, all featuring Fujifilm's patented ISS technology for exceptional image quality at low dose.
System battery power lasts 3-4 hours and features emergency reserve mode for additional exposures and travel after low battery warning.
Browser based RIS and PACS shortcut buttons let you close studies remotely from the mobile console.
Designed with safety in mind
Built for speed and efficiency, the FDR Go PLUS incorporates features to ensure the safety of users and patients. A touch-sensing bumper stops the system and sounds an alarm if an obstacle comes too close. The quick release brake system stops the FDR Go PLUS whenever the grip handle is released, and a special safety mode allows it to travel at a slower speed for in-room or training uses.
These units are to be sold installed as turn-key projects.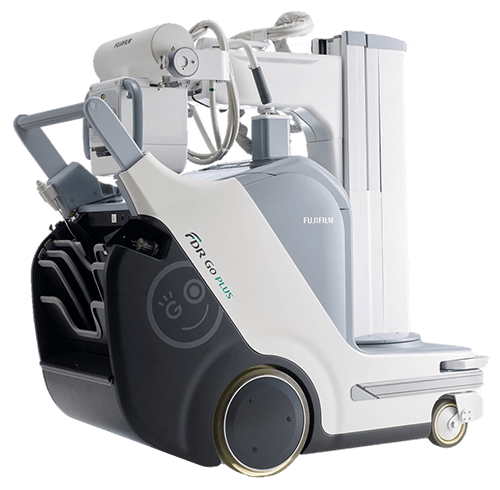 Innovative processing to optimize image quality, workflow, and patient safety.
FDR Go PLUS's onboard technologist console uses Dynamic Visualization™ image processing, which automatically recognizes the region of interest and applies the optimum image processing parameters throughout the entire exposure field, producing exceptional images with higher detail and contrast levels, and providing improved window and leveling capability for diagnosis in PACS.
The FDR Go PLUS with FDR D-EVO II detectors which feature Fujifilm's exclusive Hydro AG antibacterial coating and patented Irradiated Side Sampling for higher resolution images and improved dose efficiency vs conventional circuitry design. ISS increases sharpness and DQE by reducing scatter and blur. Revolutionary innovation positions its capture electronics at the patient side of the capture layers where data is strongest and sharpest, yielding exceptional detail and image quality at lower doses.
Additional advanced functions include:
Dynamic Visualization II (option): Our latest evolution in image processing. Dynamic Visualization II processing uses Artificial Intelligence for auto recognition of bone, anatomy characteristics, and orthopedic hardware. This image processing intelligently adapts image contrast and density, based on anatomy, thickness and structural recognition. It improves uniformity in both dense and thin regions for challenging images, and is especially helpful for large anatomy and patients, or any low dose or low penetration exams.
Virtual Grid (option): Processing intelligently simulates grid use, eliminating scatter effect, to improve contrast and clarity and reduce dose by as much as 50% for images acquired without a grid. A valuable tool for portable exams, it simplifies acquisition and positioning and eliminates artifacts associated with physical grid misalignment and improper SID.

Intuitively recognizes anatomy characteristics and scatter effect in the image
Precisely tunes contrast and noise control
Prevents retakes associated with misalignment factors of a real grid
Customizable grid characteristics, grid lines, density and interspacing material
Can be applied to all body parts,* including chest, abdomen, head, spine, pelvis, upper and lower extremities.

Multi-Frequency Processing (MFP): Applies edge enhancement and gray scale processing to multiple frequencies, improving visibility for varying densities and foreign structures. Useful in viewing spine, skull and orthopedic hardware images.
Flexible Noise Control (FNC): Selectively suppresses noise without loss of sharpness. Useful for pediatrics, lumbar spine and abdomen views.
Grid Pattern Removal (GPR): Intelligently removes moiré patterns caused by physical grids.
Fujifilm DR to Fujifilm Synapse PACS viewing shortcuts: Applies radiologist-specific single-click processing preferences to views, significantly simplifying workflow.
The onboard, full-featured technologist console provides immediate image previews, dose tracking and exposure and deviation index features, in addition to a host of image manipulation and workflow tools. A double-click magnification feature gives technologists the ability to zoom full screen and toggle edge enhancement to better view PICC lines and detect patient movement. Count on fast, reliable wireless worklist updates and transmission to PACS.
*Excluding breast imaging.
Explore the all-new redesign of FDR Go PLUS
Irradiated Side Sampling (ISS) Image Capture Technology
High-Performance Platform
FDR Go with FDR D-EVO Digital Detectors