Better systems, better service, and better healthcare are at your reach.

2D Digital Mammography
This is the most common imaging method for breast cancer screenings. Typically each breast is twice positioned and briefly compressed for a few seconds to acquire four X-ray images.
Additional imaging exams
In addition to screening mammograms, the planmed clarity™ 2d system supports additional diagnostic work-up examinations and biopsy procedures. These may include additional mammographic views, magnifi cation imaging, and biopsy procedures.
2D clarity is field upgradable to 3D.
Planmed Trifilter Technology
Enables excellent image quality with low dose. This low dose technology with specialized processing enables perfect mammograms that show all of the delicate breast tissue structures with optimal contrast.
Outstanding Image Quality
Adapts the image processing to the radiologist preferences. The image post processing can be tailored to the radiologist needs individually.
MaxView™ Breast Positioning System enables to achieve optimal breast tissue visibility in all routine mammography views. MaxView uses moving radiolucent sheets above and below the compressed breast. These sheets are easily and quickly inserted into the upper and lower MaxView traction modules.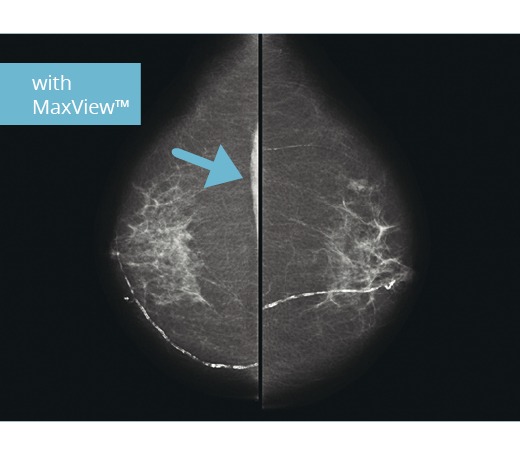 Right cranio caudal (rcc) view with maxview™ applied. More breast is visible in the image, including the pectoral muscle (arrow).
Left cranio caudal (lcc) view without maxview™. The pectoral muscle is not visible, consequently leaving a portion of the breast outside the field of view.
Right medio-lateral oblique (rmlo) with maxview™ applied. The inframammary fold and significantly more pectoral muscle is visible in the image (arrow)
Left medio-lateral oblique (lmlo) view without maxview™. A large portion of the breast tissue is left outside the field of view.
Good working ergonomics equals high performance. Proprietary Side Access™ patient positioning system improves positioning ergonomics by moving the tube head to either side of the breast support table. The unique Side Access movement allows more space for positioning especially in the oblique views.