Better systems, better service, and better healthcare are at your reach.

Introducing the Persona C Mobile Fluoroscopy System, an advanced c-arm solution engineered for fast, precise positioning and advanced image quality. This new fluoroscopic c-arm will be available with 21x21cm or 30x30cm amorphous Silicon (aSi) flat panel detector options for ultra-low dose fluoroscopy, and vascular imaging. Featuring a removable grid and dedicated 'radiography mode' for high quality still imaging, Persona C is designed for easy, precise navigation and imaging across a broad range of diagnostic imaging and minimally invasive surgical procedures.
Absolute Operability
Image manipulation from any side, thanks to a multi-touch console and live imaging. Operator always has direct control over the surgical procedure.
Compact Design
Large diameter, lightweight mobile C-arm for easy access to the operating table and with 78cm of free space. Fast, accurate positioning on patient and effortless gliding. Easy to move from one room to another.
Agile flexibility
Perfectly balanced C-arm orbital and angular rotation responds intuitively to operator touch and feel. Fast re-positioning with brake/ axis color coding. Easy lift front wheels designed to overcome obstacles.
Display Unit
Two 21,5" touch screen monitors fully adjustable in height and angle of view. Ultra sharp details and max zoom with 1920×1920 pixels. Large images and thumbnail in portrait mode. Touchscreen technology for easy image and document call-up and management. I/O ports for easy IT network integration.
Flat Panel Detector
21x21cm with 1.8 million pixels or 30x30cm with 3.8 million pixels for high-resolution, low dose images with aSi and CsI technology. Removable 8:1 grid for low dose applications.
Modulated Power
X-ray emission in pulsed mode with modulated power to suit each type of procedure. Excellent dose/image quality ratio.
These units are to be sold installed as turn-key projects.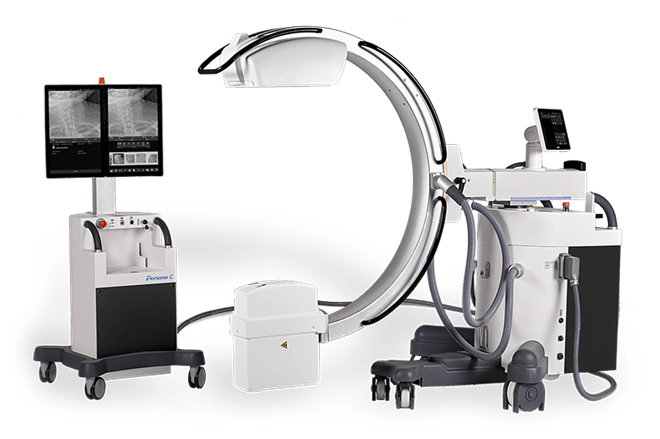 Operator Console
Always within reach and directly linked to the surgical procedure. Live or saved images are always shown together with control commands (select, edit, move, send, drag, compress, reduce, expand). Simply touch the icon to enable the function.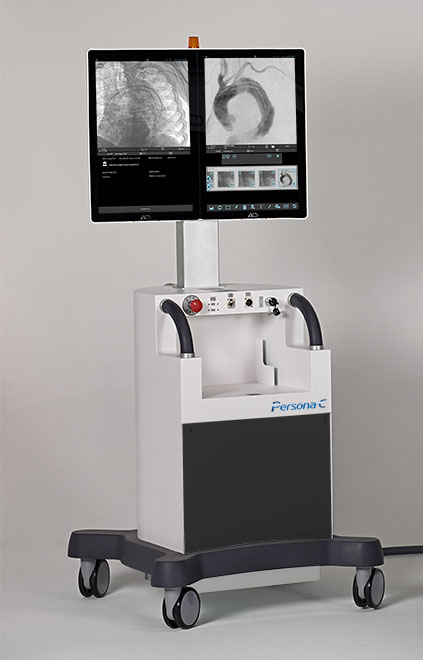 Viewstation
Viewstation with portrait oriented monitors adjustable in height and angle ensure maximum visibility of the images and controls at first glance. When up close, users can touch the icons or select thumbnail images without affecting image display. From a distant position, the images at the top of the screen guarantee a clear, uninterrupted view.
Orbital Rotation
Vast orbital rotation range (from +65 ° to –95°) makes for easy oblique projections without having to move the stand around the operating table.
Angular Rotation
Precise movements and wide angles of more than +/- 210° around and in front of the patient.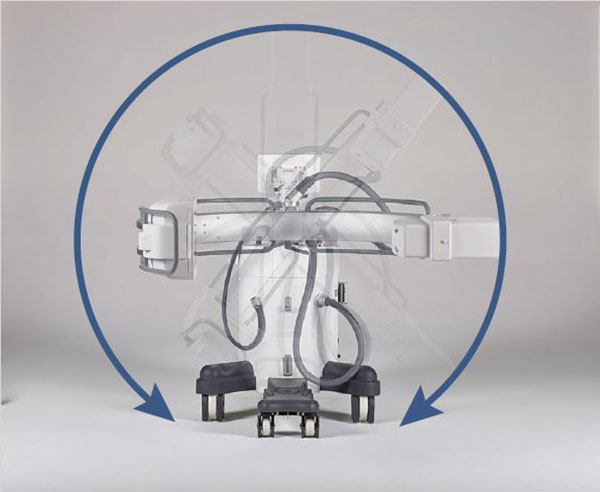 Up/Down Movement
Operator comfort is key: the C-arm has a large range of vertical movement (450 mm).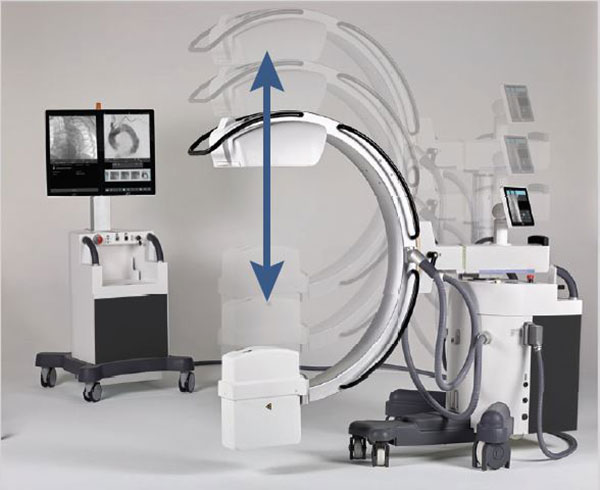 Additional Features
Function control via wireless footswitch for less cables on the floor
Instant login via the NFC device
Removable grid for low dose pediatric surgery and gridless procedures
X-ray emission controlled by either a foot switch or a multi-function hand switch
Easy lift front wheels for overcoming obstacles
Top quality display, certified for medical use and in conformity with the relevant standards for diagnostic imaging
Zero dose centering with laser localizers on X-ray tubes and on the flat panel detector side.
C-Arm mounted Operator Console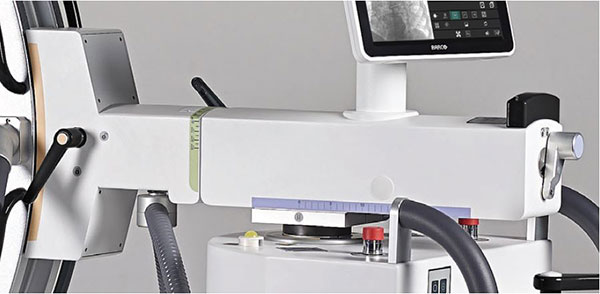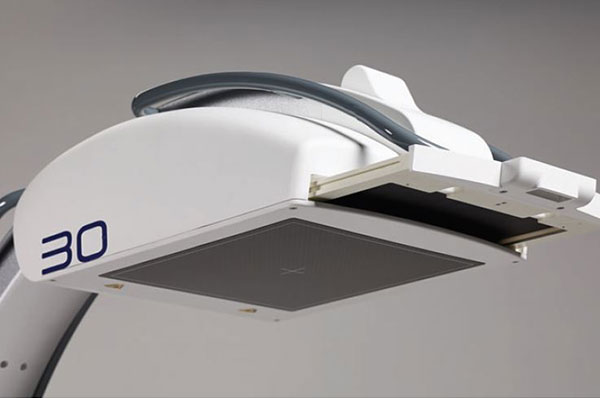 Wireless Footswitch
Wireless exposure footswitch option for hands free and cable free control of fluoroscopic and radiographic exposures* Not available in the US
Smartcard registration
NFC Smartcard reader for hands-free system login